CHE VS UDN: How Tuchel Could Lineup To Bouce Back From Arsenal Humiliation
The English Premier season is currently around the corner and will kick off in less than two weeks from now. Just like numerous clubs in Europe, the Chelsea football club still has a very long way to go after a very humiliating performance against Arsenal in the Blue's pre-season friendly.
The Stamford Bridge outfit was able to beat Mexican side Club America 2-1 at the Allegiant Stadium in Las Vegas. Despite their win against Club America, they fumbled against Charlotte falling to a 5-3 defeat in penalties at the Bank of America Stadium, Charlotte.
Chelsea will have to face Italian side Udinese at the Dacia Arena in Udine. Thomas Tuchel and his boys will be keen on bouncing back from the Arsenal game. The Chelsea manager has made it known to the club's hierarchies that more signings are needed to strengthen the squad ahead of a proposed tough season ahead.
Chelsea has since completed only two signings despite being linked with numerous players in Europe. The likes of Raheem Sterling and Senegal international Kalidou Koulibaly joined the team to strengthen the forward and defense respectively. Chelsea has faced a very tough transfer window, with Barcelona making things tough for the Premier League giant.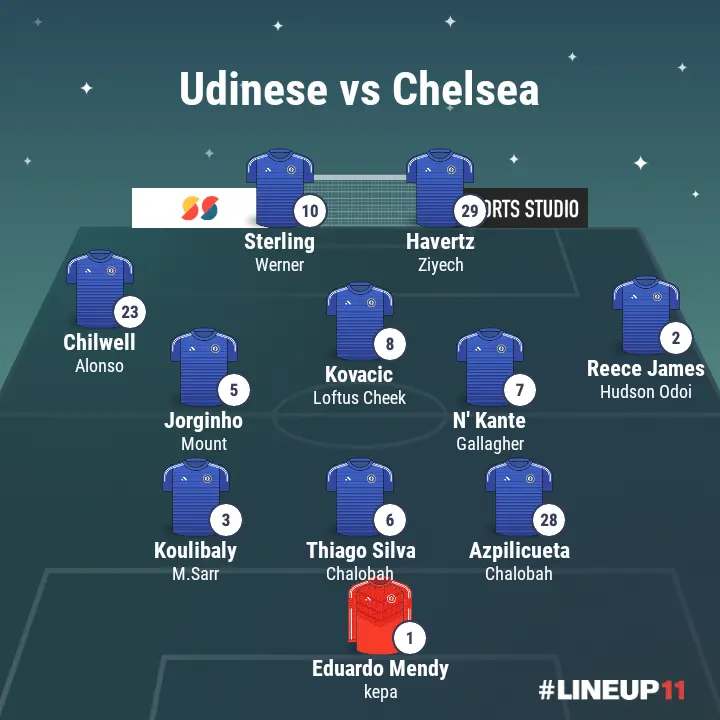 However, bouncing back from their latest defeat is Tuchel's priority, and here is how he could lineup his team to get a very good result.