Atiku Has Solution To Nigerian's Problem – Okowa
Governors Okowa thanked God and the party for a successful convention in his victory speech. Even as you speak this afternoon, I know it was a difficult decision for you.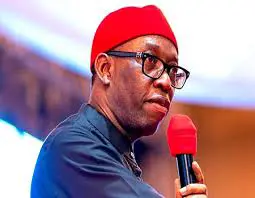 "But thank God, I found favor among my very qualified colleagues, even those more qualified than myself, and I'm here today as the party's vice-presidential candidate."
"While I thank you, I recognize that we have a lot of work ahead of us. We will work hard to ensure the party's victory by God's special grace."
"On the winning side, Governor Wike is a very strong party man, he has a great love for our party, and I know he is also a good democrat, and he understands that when several persons are in the race for a particular position, only one person will be at the front in time," Okowa said when asked how he thought Wike would feel about Atiku's choice.